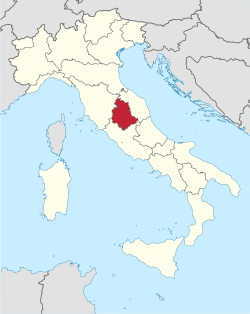 Umbrian cuisine, whose roots lie in the Umbrian and Roman civilization, is founded on a long tradition, with dishes that are not always poor or popular, but with frequent use of legumes and cereals. Little influenced by the neighboring regions, it is essentially based on meat and products of the earth, which are used both on special occasions and in the daily meal. It is a simple kitchen, with generally not too elaborate processes, which clearly enhance the flavors of the raw materials.
Umbrian cuisine
The typology can be divided into three macro areas which, broadly speaking, correspond to the socio-cultural subdivision in which the region is divided. Typical of the whole territory is the processing of pork and the production of cured meats: particularly renowned are those of the Norcia area, hence the Italian term "norcino", which par excellence designates the producer and seller of cured meats. Other "noble" ingredients that recur in Umbrian flavors are the truffle, an authentic emblem of this gastronomy (especially on the mountain side east of the region and in the middle and upper Valnerina walley), as well as extra virgin olive oil, indispensable in almost all of local recipes. The areas of Orvieto, Montefalco, Torgiano and the area of Lake Trasimeno are also famous for their vines, from which numerous DOP wines are made.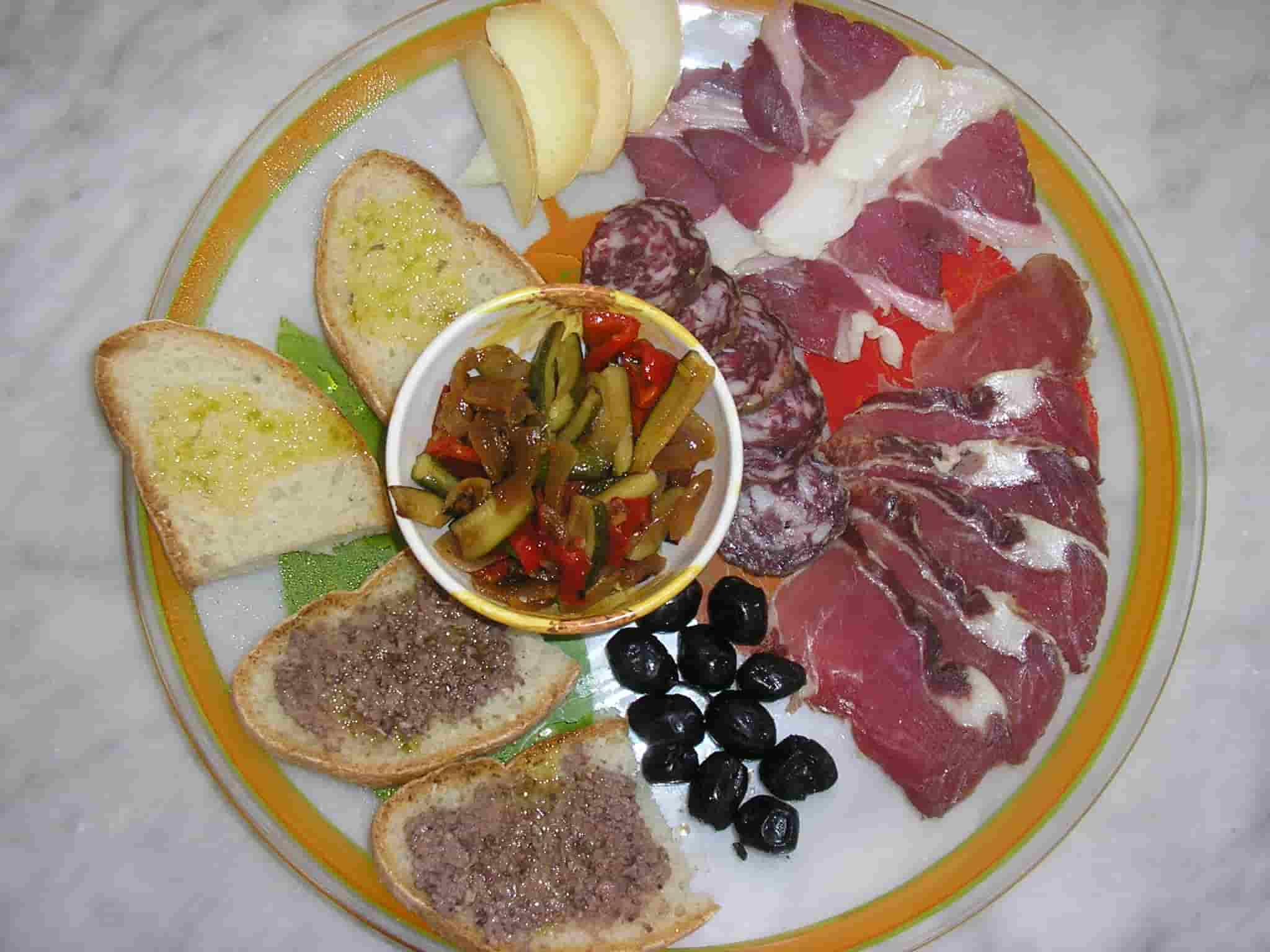 Umbrian Cuisine
Umbrian Appetizers
Umbrian appetizer – this term means a plate of cold cuts and cheeses served at the opening of the meal. It generally consists of one or more slices of ham, salami, capocollo, loin or sausage, associated with pecorino or goat cheese and arugula leaves.
    Bruschetta – these are essentially whole slices of bread, lightly toasted on the coals, rubbed with a clove of garlic and then covered with olive oil and a pinch of salt.
    Chicken liver crostini – halved slices of homemade bread, toasted or not, covered with a ground chicken liver dough (other recipes include a sauce based on truffles, or mayonnaise and mushrooms, mayonnaise and tuna, or even cherry tomatoes chopped).
    Panzanella – it is a preparation based on wet stale bread, sliced ​​or chunks, with the addition of tomatoes, onion, basil, olive oil, vinegar and salt. If other more caloric foods are added, such as tuna or mozzarella, it can also be used as a single dish.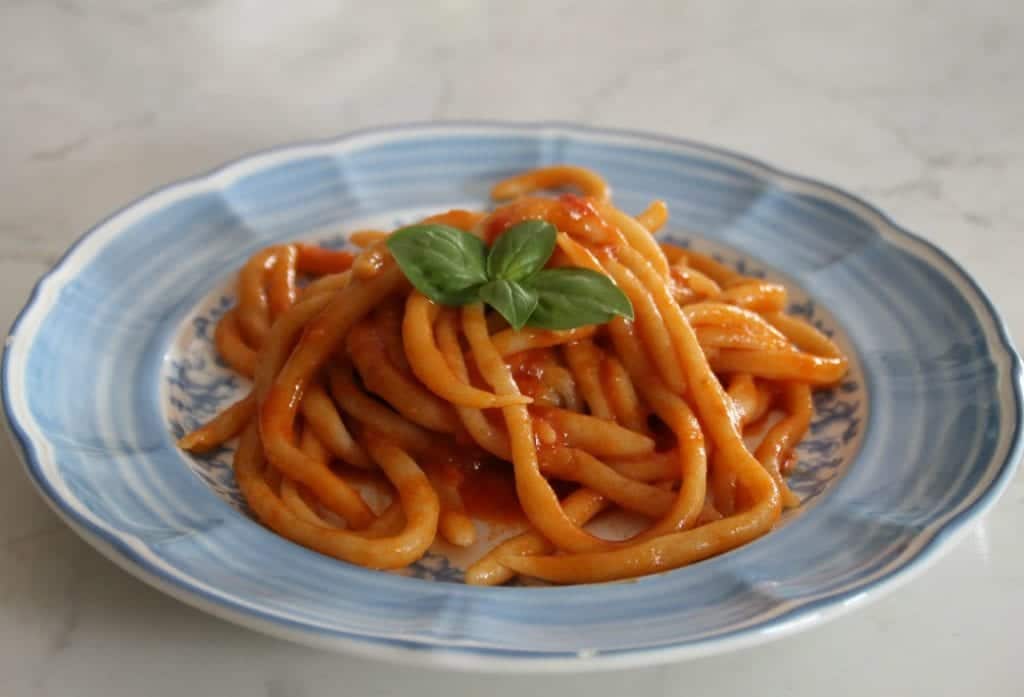 Umbrian Cuisine
Umbrian pasta dishes
Agnolotti al sugo – fresh pasta, typical of Città di Castello which is prepared especially during Christmas and Easter.
Ciriole alla Ternana – ciriola is a long square-section pasta typical of the city of Terni and its province and is traditionally composed of soft wheat flour and water. It is homemade and is similar in all respects to fettuccine or even Tuscan pici. Its peculiarity is the total absence of eggs in the dough. The basic recipe calls for the accompanying sauce to be a simple garlic, Terni PDO extra virgin olive oil with chilli pepper and the addition of parsley and tomato to be poured according to taste.
Cappelletti in broth – fresh pasta, it is consumed in mixed meat broth especially during the Christmas period.
Gnocchi with goose sauce (Perugia) – potato gnocchi served with goose ragù (preferably young).
Gnocchi al castrato – served with castrated lamb or sheep ragù.
Pappardelle with hare / wild boar ragout – this pasta, similar to very wide tagliatelle, is typically served with a hare or wild boar meat sauce.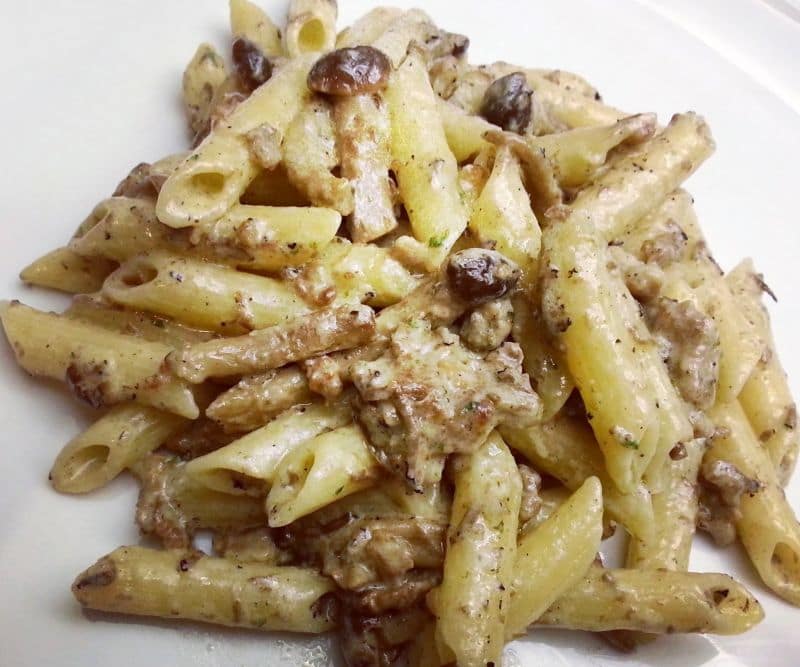 Strangozzi, or Strozzapreti, or Ciriole – it is a pasta similar to tagliatelle, but without eggs, with a rather thick section compared to tagliatelle and a shorter length. In northern Umbria known mainly as strozzapreti, in Foligno-Spoleto strangozzi.
Strangozzi with truffle – generally Norcia black truffle, but also summer scorzone or white truffle, typical of the Upper Tiber Valley.
Tagliatelle al ragù – seasoned with a particular minced veal ragù and pieces of chicken giblets.
Vincisgrassi – sort of baked lasagna typical of the Foligno mountains, probably imported from the neighboring Marche. It seems that the name derives from that of the Austrian general Windisch-Graetz, stationed in Ancona during the Napoleonic period.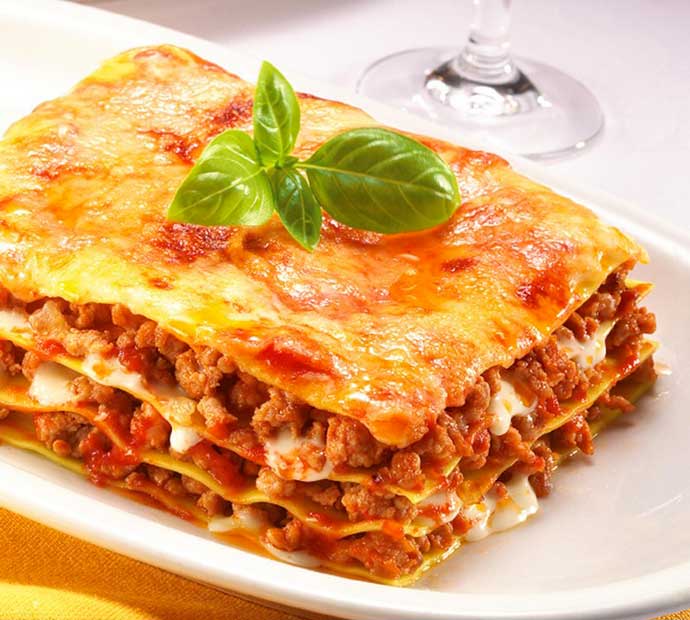 Pasta alla Norcina – Traditional Norcia dish consisting of penne or tagliatelle topped with cream and sausage, fresh truffle and parmesan are sometimes added. In the ancient version, the cream is replaced by sheep's ricotta diluted with a little cooking water from the pasta.
Gnocchi alla Collescipolana – the famous gnocchi alla Collescipolana, with a more square shape and tougher and al dente consistency than those of classic potatoes from northern Italy, are seasoned with beans and pork sausage sauce are a real delicacy of Terni. This dish takes its name from the hamlet of the Terni castle of Collescipoli.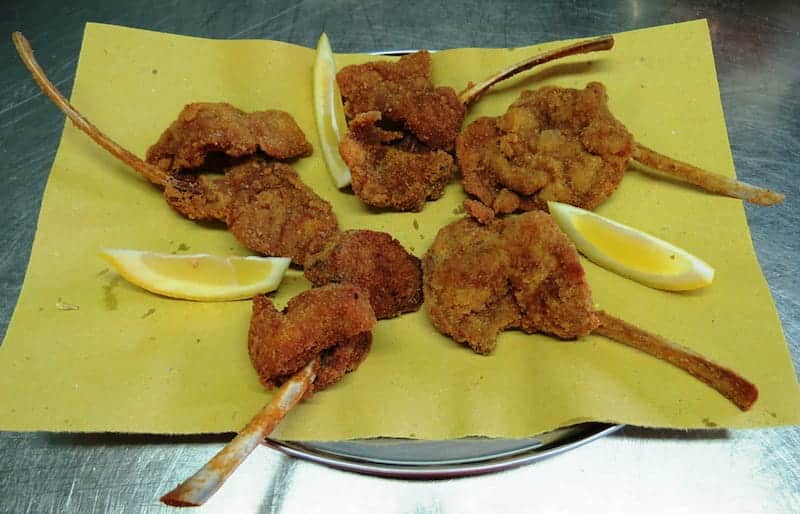 Secondi piatti (main dishes)
Fried lamb – breaded and fried lamb chops.
Coratella d'agnello – stewed in white, with garlic or onion and various flavors.
Friccò all'eugubina – Typical dish of the city of Gubbio, composed of mainly white meats, stewed with tomato and accompanied with Crescia.
Easter omelette (Province of Terni) – Typical Easter lunch omelette, which is seasoned with courgettes, asparagus, wild chicory, sausage and aromatic herbs.
Umbrian Cuisine
Galantine – it is a boneless and eviscerated hen, whose skin is filled with minced chicken and beef, boiled eggs, pepper, cheese, nutmeg and shelled pistachios. The wrapper is then sewn, wrapped with twine for containment and cooked in broth. It is eaten cold, cut into slices.
Snails (Foligno) – the land snails are handpicked and prepared cooked in different ways.
Roasted goose – same method of preparation as roasted chicken, but applied to a goose.
Stuffed roast pigeon (Province of Terni) – traditional preparations involve the use of a whole wild wood pigeon.
Gigeon pigeon (Province of Terni) – the pigeon is roasted on a spit, during cooking the dripping pan is placed under the animal, here the liquid that falls from the pigeon is concentrated and subsequently with this and the entrails of the pigeon itself sauce to be served alongside the roast.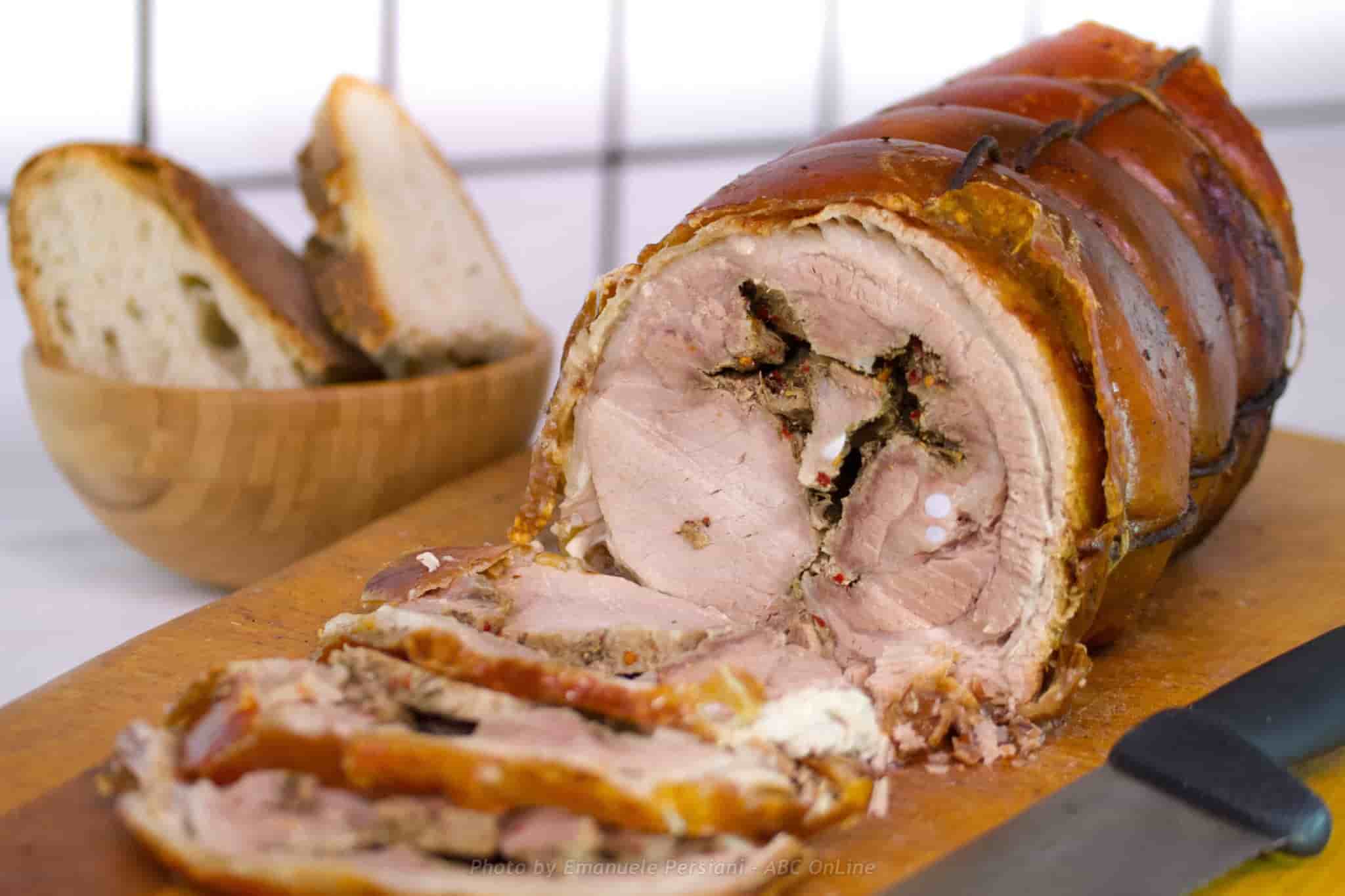 Porchetta – a whole piglet is roasted after being filled with entrails, fennel and aromatic herbs. It is cut into slices and normally eaten, even between meals, in sandwiches (lo paninu co la porchetta): its consumption is favored by the presence of a large number of street vendors who go to the points where the greatest concentration of people is expected (markets, concerts, gatherings, etc.). They generally do not produce porchetta on their own but rather obtain supplies from artisans who prepare it professionally: the best are found near Norcia, the cradle of porchetta, and in the entire province of Terni.
Sausages with lentils – typically Castilian dish, the sausages of Norcia and the lentils of Castelluccio di Norcia are prepared stewed with tomato.
Frog skewers – roasted frogs are typical of the Perugia area of ​​Capanne and are mainly prepared during the annual festival dedicated to them.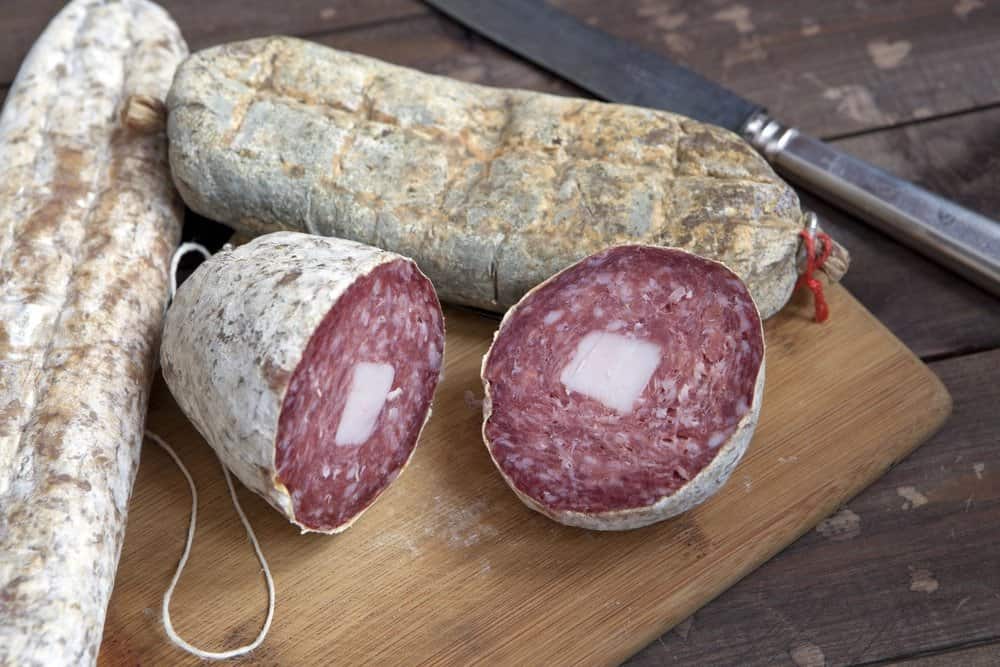 Umbrian Cuisine
Umbrian Cold cuts and cheeses
Barbazza – pork cheek.
Smoked guts – pig entrails.
Caciotta – cow's milk cheese.
Capocollo – cured meat obtained from the pig's back muscle. After seasoning, it is wrapped in typical oiled paper sheets.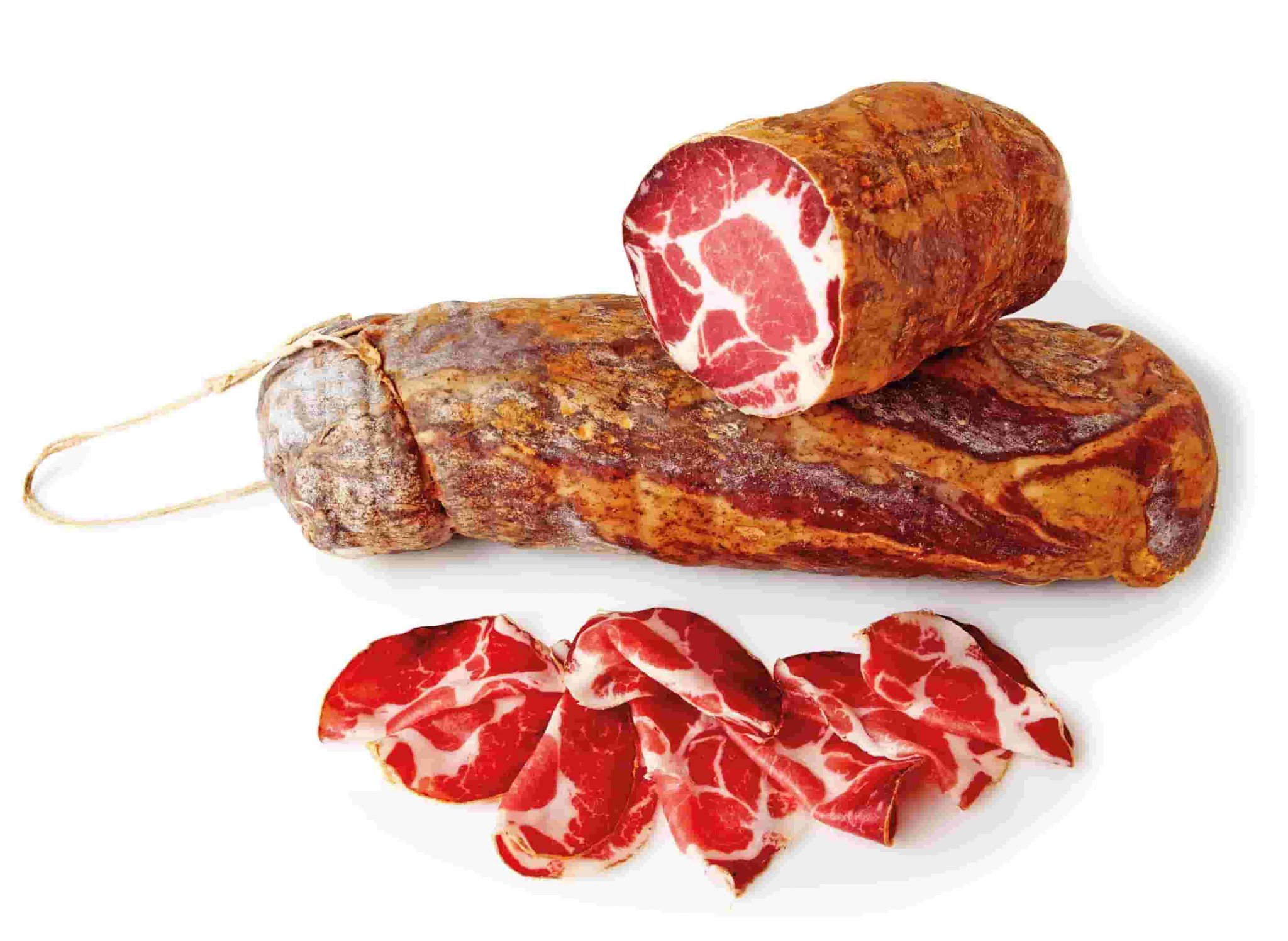 Ciauscolo – spreadable sausage typical of the Marche and Umbria of Valnerina walley and the Folignate mountains bordering the contiguous region.
Cojoni de mulo (Norcia) – sausage with a typical bag shape.
Corallina (Norcia) – sausages prepared with not finely ground meat.
Wild boar sausages (Norcia) – the mixture of these sausages is actually based on pork, but a good percentage of ground boar is added to it.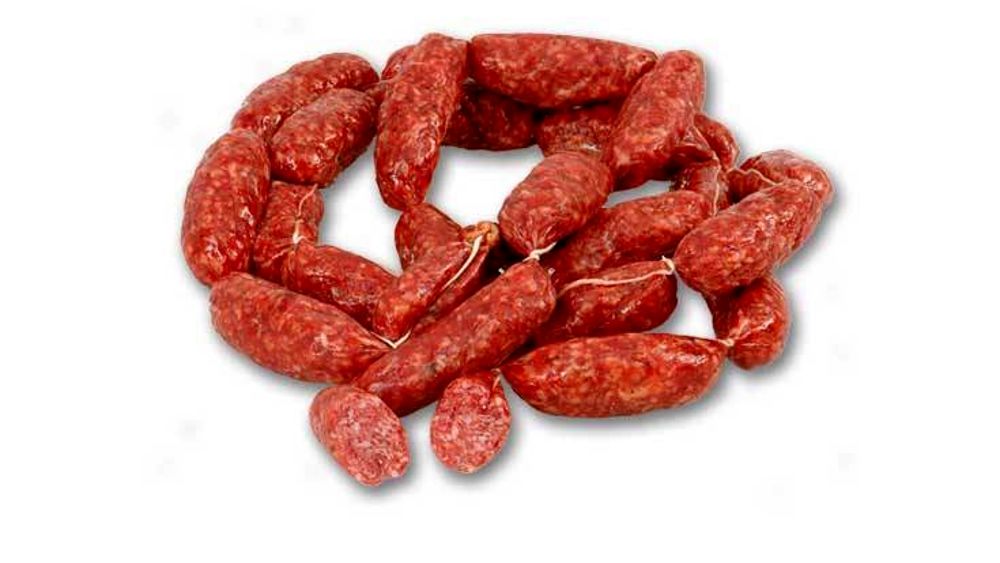 Deer cured meats – staple, morsels, ham and cacciatorini prepared especially in the area of ​​Nocera Umbra.
Loin – similar to the capocollo, but made with pork loin meat. It has a more delicate flavor and an appearance similar to that of bresaola.
Mazzafegati – sausages made from pork meat and liver, stuffed with sultanas and orange peel.
Umbrian pecorino – hard cheese made from sheep's milk.
Prosciutto di Norcia – is a PGI ham produced in the Norcia area and neighboring municipalities.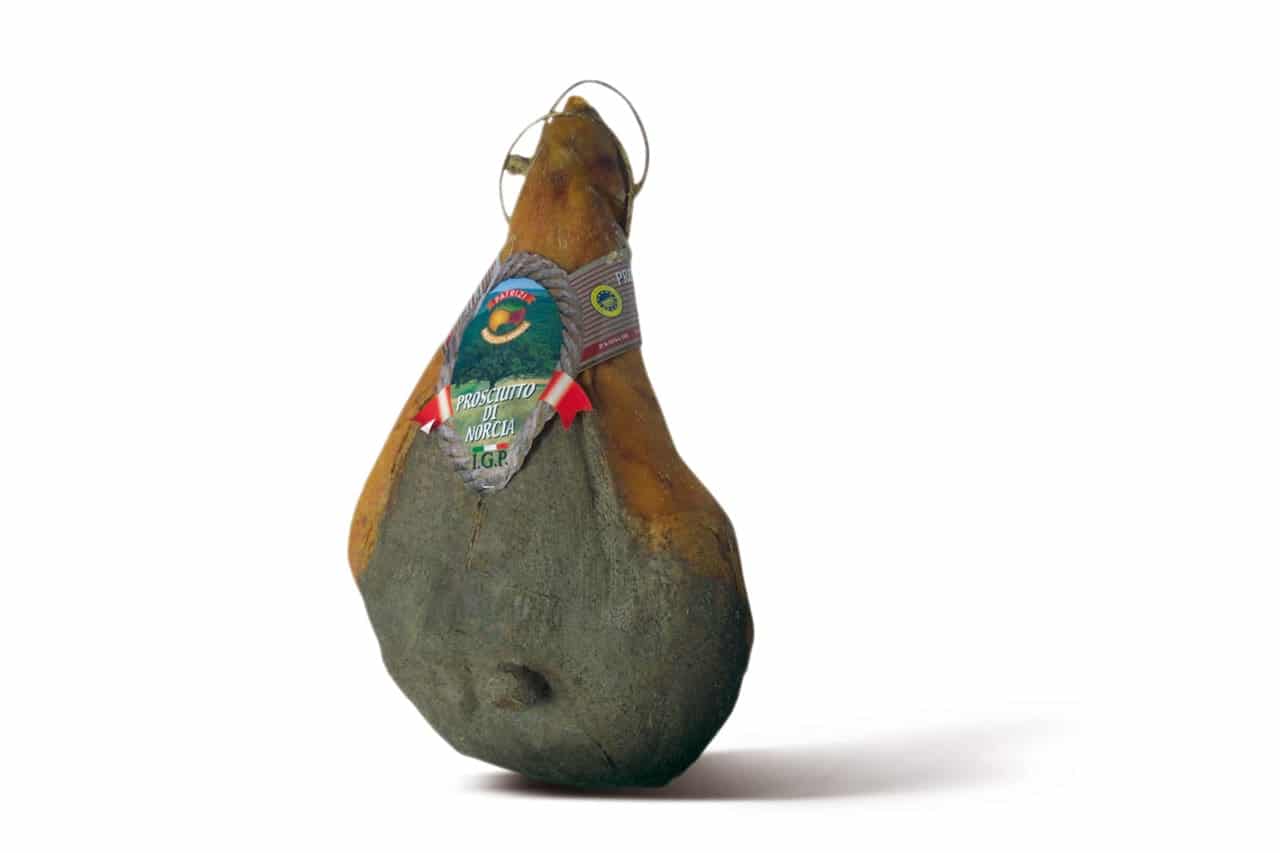 Salted ricotta – the ricotta is aged for a couple of weeks and served grated.
Ventresca – local variant of pancetta.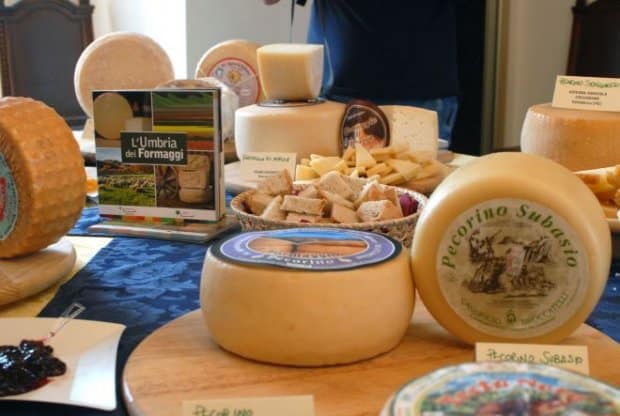 Umbrian Cuisine
Umbrian Side Dishes
Bandiera – green peppers, white onion and red tomato (reminiscent of the colors of the Italian flag) cut and cooked in a pan with oil and salt.
Grass – various wild field herbs, sorted and boiled, are served to accompany the meat, seasoned with a drizzle of oil and salt.
Lentils – eaten stewed with tomato especially during the Christmas period, they are mainly produced on the Colfiorito plateaus and in the Castelluccio area for which there has been IGP recognition.
Gobbi parmigiana – the leaves of the Artichoke Thistle (Cynara cardunculus L) are used, which is a species of artichoke that is generally harvested in early winter. These are boiled and fried with flour and beaten eggs; cut into strips, they are then arranged in layers in a pan, alternating with bechamel and tomato sauce or ragù. Everything is finally cooked in the oven.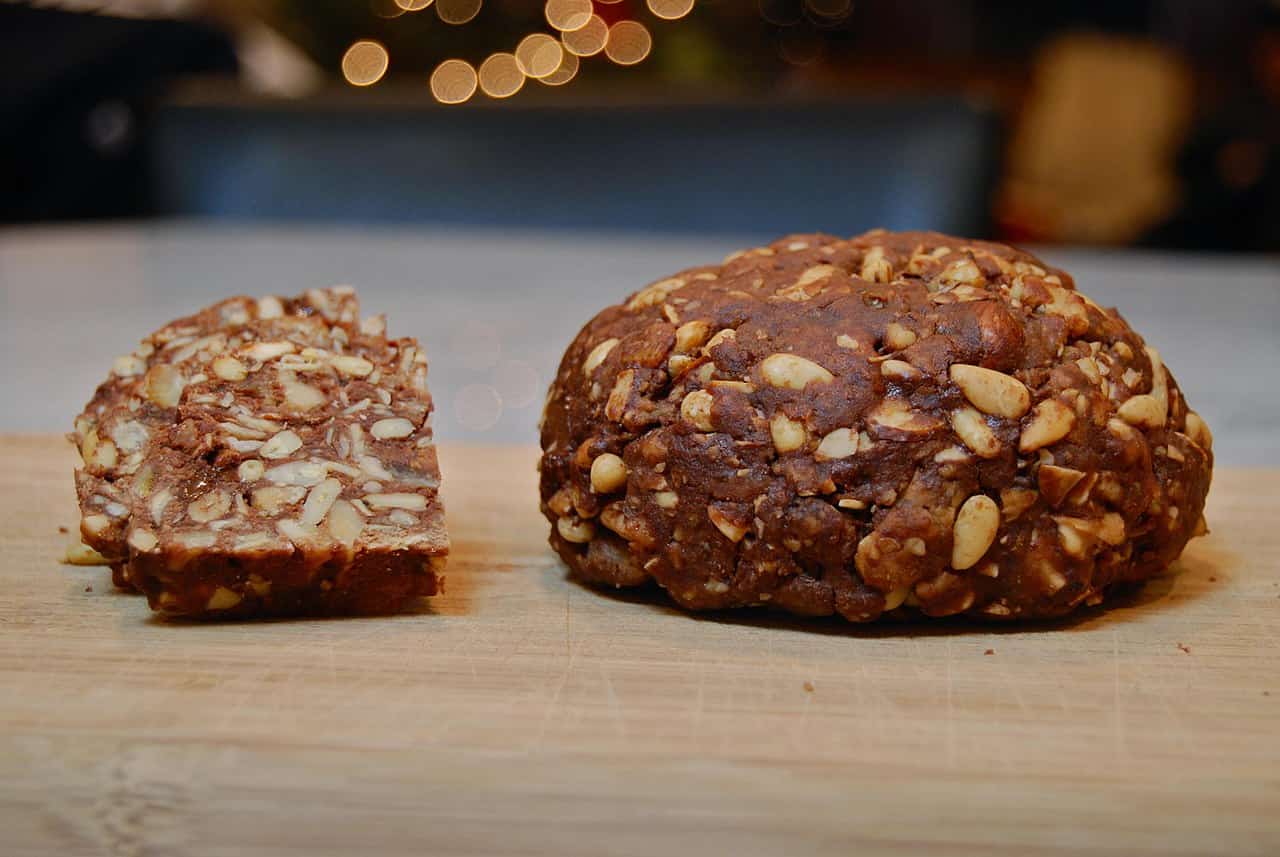 Umbrian Cuisine
Umbrian Desserts
Strufoli – prepared for Carnival, they are cream puffs fried in oil and served sprinkled with plenty of loose honey. More common in northern Umbria, the carnival strufoli are similar to the Castagnole of southern Umbria, they differ from these in their larger size and because they are sprinkled with honey, rather than alchermes and sugar.
Castagnole (Province of Terni) – Sweets prepared for Carnival, similar to the Strufoli of northern Umbria, differ from these in their smaller size and in that they are sprinkled with alchermes and sugar, rather than honey.
Sweet potato donuts – typically prepared in the Colfiorito area with local red boiled and mashed potatoes. It is a recipe with a fairly recent tradition.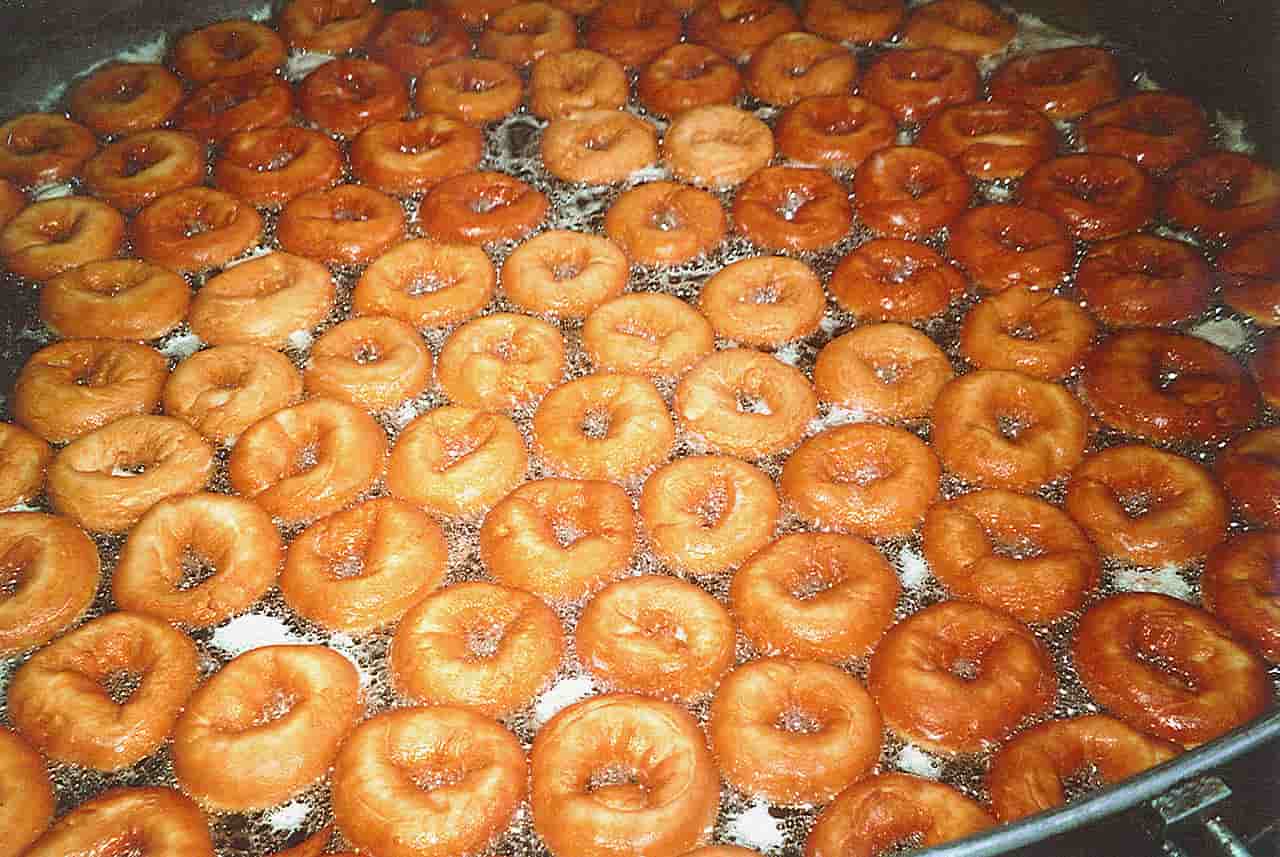 Cicerchiata (mountain around Foligno) – The dessert is based on flour, eggs, butter and sugar. From this, balls of about one centimeter in diameter are obtained which are fried in olive oil or lard. Drained, they are arranged "pile" and covered with honey.
Torciglione (Perugia) – characteristic open donut (i.e. not closed on itself) prepared with a mixture of sweet almonds, pine nuts and sugar. It is traditionally prepared in the form of a snake, wrapped around itself, with a protruding almond to draw the tongue.
Torcolo – round donut made from flour, sugar, milk and yeast.
Torcolo di San Costanzo (Perugia) – it is a donut that is prepared on the occasion of the feast of San Costanzo (29 January), patron of the city of Perugia. The dough is enriched with candied fruit, raisins and anise.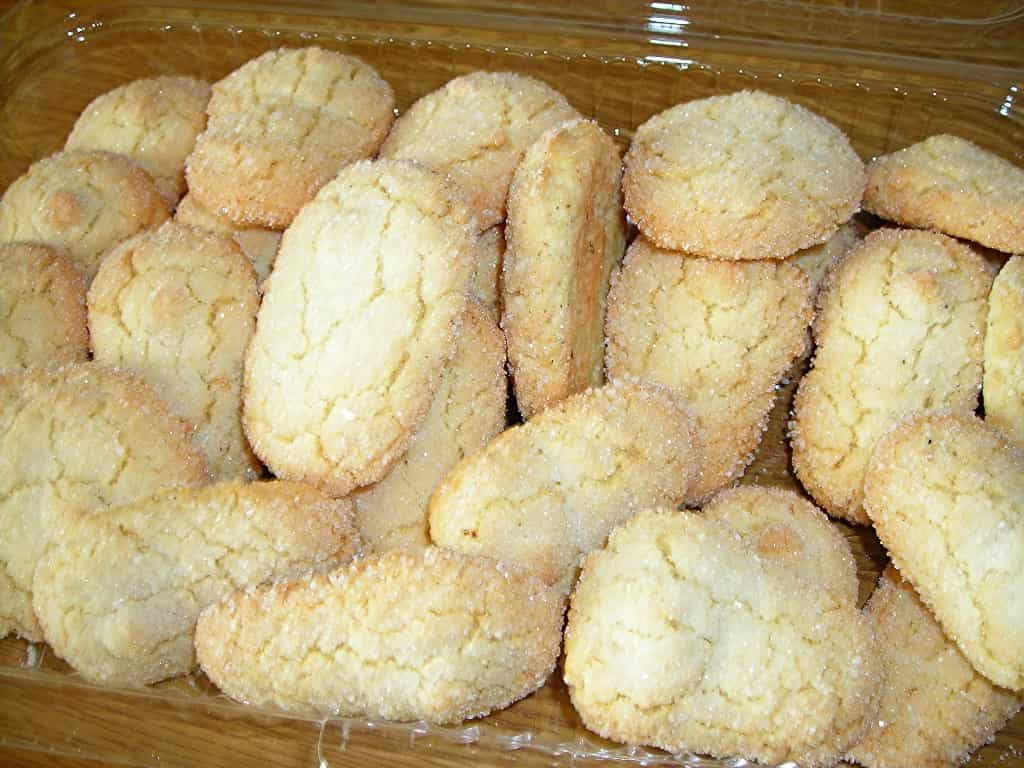 Zuppa Inglese (variations throughout the region) – prepare the Torcolo in very fine slices, wet it in alchermes and arrange it in layers in a ceramic pan. The layers of torcolo are alternated with layers of custard, which also forms the last layer. Everything is decorated with chocolate and sugared silver beads. The dessert should be served cold.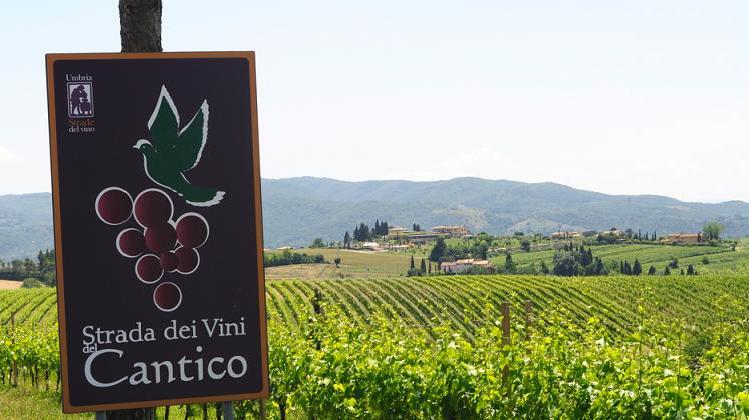 Umbrian Cuisine
Umbrian Wines and spirits
The wines with controlled denomination of origin in Umbria are eleven: Orvieto, Lago di Corbara, Assisi (Grechetto, white, Novello, rosé, red),
Altotiberini Colli(white, rosé, red),
Amerini Colli (white, red, Malvasia) ,
Colli Martani (Grechetto, Grechetto di Todi, Sangiovese, Sangiovese reserve, Trebbiano),
Colli Perugini (white, rosé, red),
Colline del Trasimeno (Cabernet Sauvignon, Cabernet Sauvignon reserve, Gamay, Gamay reserve, Grechetto, Merlot, Merlot reserve , white, Vin Santo white, sparkling white, selected white, rosé, red, sparkling red, Novello red, reserve red, selected red, classic sparkling wine),
Montefalco, Rosso Orvietano, Torgiano (white, red, sparkling wine).
There are two wines with Denomination of Controlled and Guaranteed Origin:
Torgiano Rosso Riserva and Montefalco Sagrantino (Rosso in the Secco and Passito types).
Orvieto constitutes 70% of the DOC wine production of the entire region.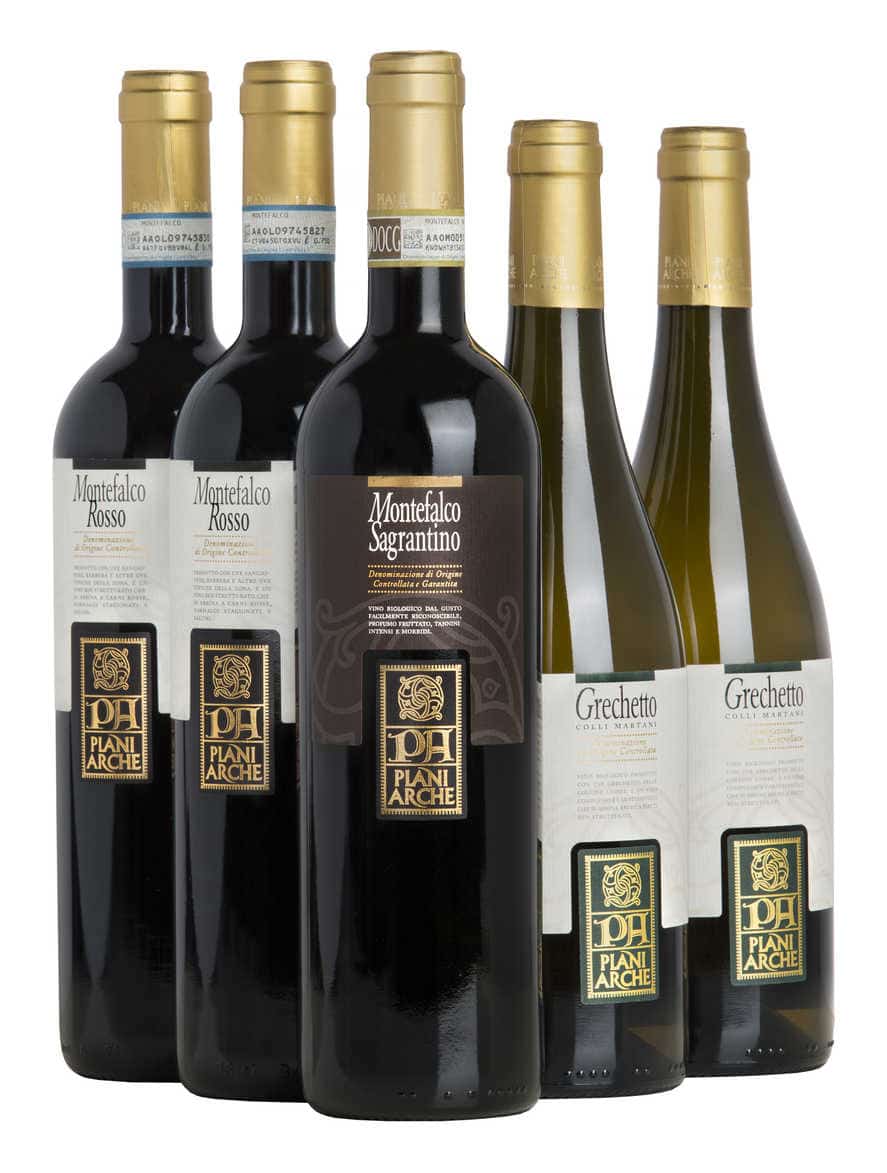 Liqueurs include:
Alchermes – although it is not Umbrian, this red-colored liqueur is used in many sweet preparations.
Amaro al tartufo nero – alcoholic product based on various herbs and an infusion of Norcia black truffle.
Maniere (Perugia) – fermented syrup of the fruit of the strawberry tree.
Vin Santo – wine obtained from the pressing of grapes left to dry for a couple of months, in a dry and well-ventilated place. It is generally prepared in the months of December-January.
Viparo – it is a bitter made in Terni by a single producer, the Morganti family. It is prepared from an infusion of herbs, roots and aromatic woods. The name comes from the Latin Vis Paro, "I generate strength".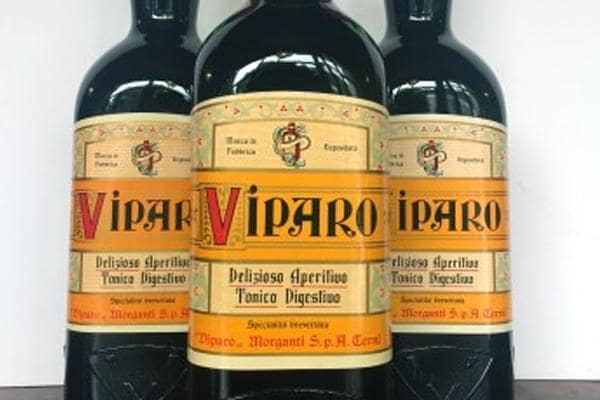 Bread and starchy foods
Arvoltolo (Perugia) – dough made from flour, water, yeast and salt which is reduced to batter and poured into frying over boiling oil, in the form of slightly thick circular cupcakes. After being dried from the oil, the voles can be seasoned with salt or sugar and preferably eaten hot.
Brustengolo or brustengo defferents from Arvoltolo for a more liquid and yeast-free dough. The brustengolo mixture can be seasoned with sausage, or onions or rosemary, etc.
Bocconcello – it is a savory cheese cake, prepared in the past during the harvest and threshing, typical of the countryside
Umbrian cuisine
Pane di Terni – the bread of Terni (together with the Tuscan and the Marche) is traditionally bland, that is, salt is not used in the dough.
Tradition has it that this food tradition dates back to the preparation of bread in the context of the Umbrian sharecropping, with the farmers who self-produced it for their sustenance. Later, with the so-called Salt War, in rebellion against the tax imposed by Pope Paul III in 1540 for the use of this condiment throughout the papal territory, the custom would become widespread and permanent. However, recent research seems to contradict this legend
Torta al testo – it is a mixture of water, yeast, flour and salt which is left to levitate and then cooked on the Testo, that is, a stone disc heated on the embers of the hearth. Cooking is facilitated by placing a metal circle on the crushed dough, which is also covered with embers. It can be assimilated to a thick and wide Romagna Piadina; probably, it derives from a focaccia that was prepared by the Roman soldiers on the Testum, a brick tile. This food is usually consumed with a filling of salami (ham), roasted sausages, or sausages and boiled country grass. More unusual, and recently introduced, the filling with melted chocolate or gianduia cream. This recipe is widespread almost throughout northern Umbria, where it is known by different names
If you liked this article, put a like on my Facebook page
if you want to learn how to make fresh handmade tagliatelle, with the traditional Bolognese Meat Sauce subscribe to one of my classes.
Short class
one-day class
or the new Online Cooking Classes to live a cooking experience directly at your home
See you soon with a new article.
Chef Luigi